Artist Statements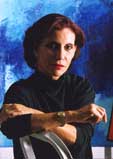 (…) My abstractions are composed of pieces of my life that surge while at work. Dreams or realities, I never separate my artwork from my personal life. In the process of applying the textures and the colors, some images or a story show. The "esgrafiado" in the surface has to do with my intention of penetrating into the spirit of the matter, thus, capturing my experiences in a form of a diary. My intuitive form of work allows images to grow and be revealed. In this way of working sometimes ideas arise that I am not prepared to explore or reveal, so I cancel and bury them until a future encounter, a later time. When the images are recurrent, I integrate them to my process and work them with great passion. There is an aspect of destruction in my work also, only thru the process of creation and destruction, I can achieve this thick layer with traces and scars that has qualities of time, memory and accident (…).
(Artist Statement Picó In Transit exhibition, March, 2005)
(…) We live in an age where the downfall of social and moral foundations have altered the stability of our cultural roots and religious beliefs. There is a need to deeply touch our purest feelings to learn about our spiritual identity. The work I present today has that intention: to represent the current historic moment in a more universal way, with a less graphic or specific vision, thus providing a wider field for an intellectual interpretation – a work with an existentialist approach, where man is faced with numerous possibilities to establish his own judgment and decisions. A work that can express a state of mind, an specific feeling, a sensation of construction and decomposition, struggle, arousement, balance, suspicion, remains of love, pain, silence, death, tearing apart and torture, scrapings, destiny of the ephemeral and suggestion of the unity of all things. These paintings are the outcome of a years' work, a difficult year, one of many significant changes and intense emotional struggles that have led me to think as the Virgilio of Hermann Broch "that we are only guests in our own life" or as Foix "that we live always in others' existence"(…).
(F. Picó, Catalogue exhibition, Mobili Galerry, October 2001)
(…) I am concerned that my paintings represent painting – a true plastic language: the gesture, the texture and the plasticity of the medium. In this way, the viewer can have an openness of mind that allows him to confront his own realities and enjoy an aesthetic experience. With the visual bombardment of information to which man is submitted daily, it is necessary that art provides a space for the spirit to rest and be nourished, a place that will guide him and at the same time give him answers(…).
(F. Picó Catalogue exhibition, Mobili Gallery,February 1998)
(…) My greatest inspiration is life and the way I understand it, and my best stimulus is my own work. I believe in pursuing, in a natural way, the amount of tension necessary when confronted with an intense work. I like to work free of the pressure of groups, schools and dogmas, but if they appear, I try to escape immediately. I enjoy painting not planned or analytical art. I try to work in a state of total vacuity so that I can transmit a deep psychic substance to my work so that the spontaneous and personal way of working is an inseparable consequence of the emotion of that moment. I express in my work different emotional states through forms, colors and textures, and allow my aesthetic instinct to select the possibilities and alternatives that I unconsciously realize during the creative process of my work. I believe it is necessary to avoid all conventionalisms and trust our instincts so we can reconsider the simple, basic things in life. Painting, for me, is an internal confrontation, where I leave aside the mental panorama of ways of thinking, artificial realities and false necessities. I try to recover the authentic color of the existence, one that has no opinions, suppositions or prejudices: an interior color, no matter if my painting pleases or not."
(F. Picó, Catalogue exhibition, Art Student League of San Juan, February 1994)
Leave a comment
You must be logged in to post a comment.